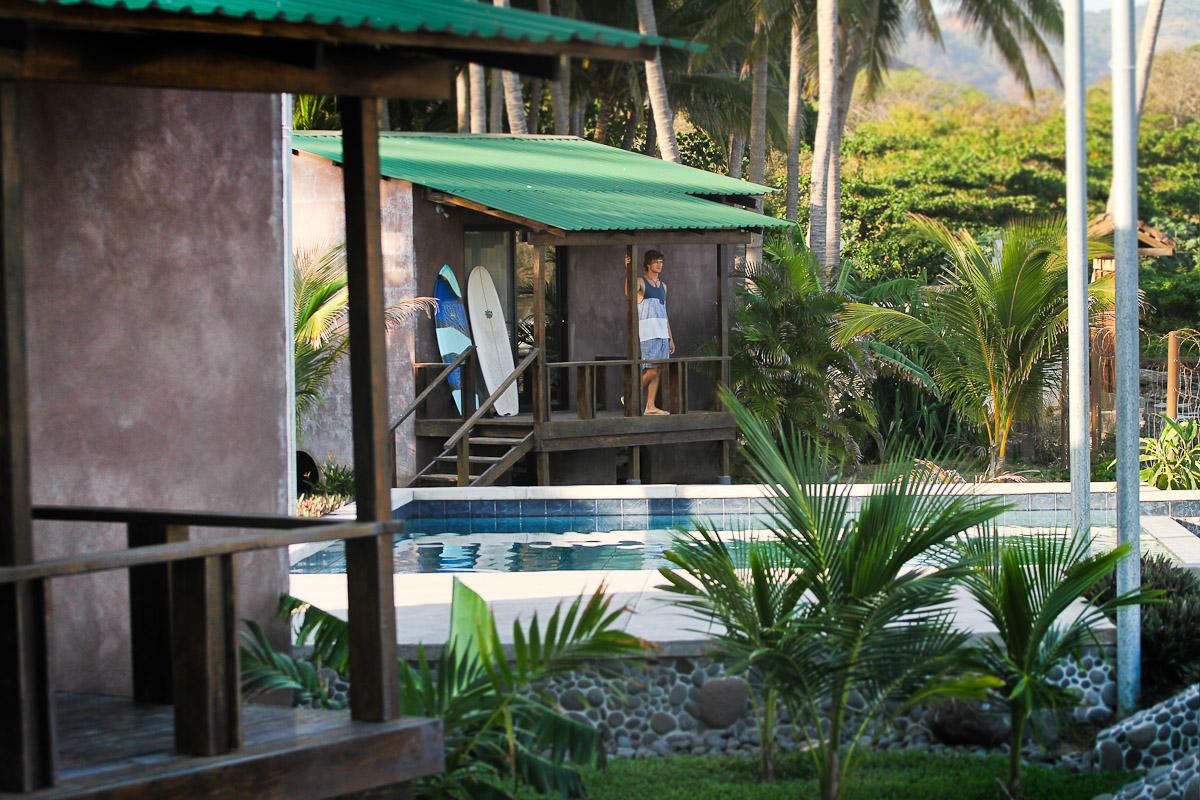 Mizata - Beach Resort
SURF MIZATA EL SALVADOR
BeachCo. Guatemala offers hotel options in both Guatemala and El Salvador and there are price-points to suit all budgets.
The Beach Resort is a little slice of paradise at El Salvador's most consistent and least crowded surfing area.
MIZATA - BEACH RESORT
The Beach Resort is a little slice of paradise at El Salvador's most consistent and least crowded surfing area.
Set right in front of 3 different surfing areas, this is a fantastic option for the surfer looking for variety, consistency, tranquility and a nice comfortable place to sleep at night.
Being such a relaxing place, the resort is suitable for non-surfers too with a beautiful beach, amazing pool and a lovely natural setting.
Overview:
Location - the perfect place to base yourself for a surf tour (great waves there and within 60 minutes drive), also a nice beach for Learn-To-Surf classes
Private - gated hotel premises, very private and quiet. You will feel super relaxed here!
Great food and friendly vibes
Key features of the hotel:
Private rooms with air-conditioning and private bathrooms (ideal for couples, a few friends, small family)
Caters to groups - Ideal for a big touring party (ie 10+ people)
Fantastic food at the restaurant with amazing ocean views
Amazing pool overlooking the surf
Plenty of grass, trees and shade for relaxing
Owner is always onsite and offers great customer service
Wifi
Suitable for:
Surfers (experienced and learn-to-surf)
Big groups
Families
Couples
Price Ranges:
PRIVATE - All prices customised depending on your needs
SURFING
The most consistent waves in El Salvador, almost always has surfable waves and very low to no crowds.
The great things about Mizata are the consistency (almost always has waves), the variety (4 different surfing areas within 800 metres) and the lack of crowds (rarely more than 10 people out, often it is completely empty!)
The 4 surfing areas break in a variety of conditions and tides, generally speaking:
the point break (right) - best in medium to medium large (4-6ft) swells, can be surfed on some bigger swells too
the reefs (lefts and rights) - best on medium (3-5ft) swells
the beach breaks (lefts and rights) - best on small (2-3ft) swells
the slab (right) - best on big swells (6ft+), it gets heavy and is rarely surfed (very experienced surfers only!)
The wave is suitable for experienced, intermediate surfers and learn-to-surf.
GETTING THERE
Mizata is about 4.25 hour drive from Antigua. Our private shuttle leaves every day from Antigua at 8am and we also have private transport options (from Antigua and Guatemala City).
It is about a 90 minute drive from San Salvador City / San Salvador Airport. We can pick you up at either location and bring you here.
OPTIONS
Whether you are an experienced surfer, a beginner or just want to hang at the beach, from our base here in Antigua, we can offer you options to suit all budgets.
Packages can include transport, accommodation, meals, surfing/learn-to-surf/surf guide and other activity options with departure/return options from Antigua, Guatemala City and San Salvador.